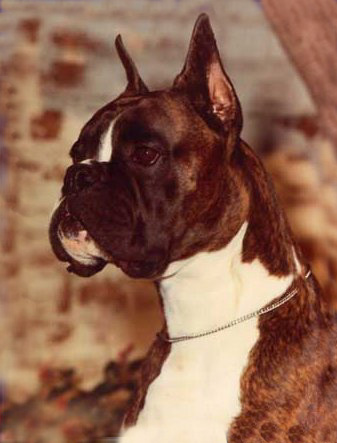 Sire: Ch. Scher-Khoun's Abednego, SOM
Dam: Tudosal's Ruffles, DOM
IKE was purchased by the Carletons of Notelrac Boxers and quickly became a champion. He was handled throughout his career by Cheryl Cates and became a multiple Specialty and Group Winner. Although bred very sparingly, he also made his mark by becoming a Sire of Merit. A full litter brother to Ch. Benjoman of 5T's, he was the first to finish from his litter.
The following champions were sired by IKE: Ch. Notelrac's Notorious, Ch. Notelrac's High Pockets, Ch. La-Phi-Do's Buttons N' Bows, Ch. Notelrac's Mystique, Ch. Notelrac's Sirocco, Ch. Mac-A-Nor's Lady Marine, Ch. Encore's Kameo Debutante, Ch. Kameo's Show Girl, Ch. Kameo's Creme De La Creme, Ch. Notelrac's Beau Jeste, Phil. Ch. Notelrac's Brazen Belle.
Owners
John & Mary Carleton & Cheryl A. Cates
Notelrac

Breeder
Connie Rissman ~ Ramarca